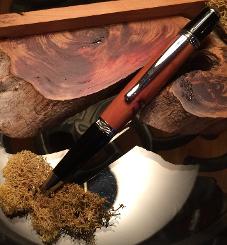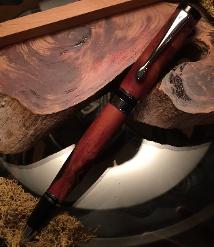 The wood used in the pen is 100+yr old Bermuda Cedar.
Juniperus Bermudiana is the generic name of the variety of cedar tree indigenous to Bermuda which was growing most abundantly on the island of Bermuda when they were discovered in the 14th century. Bermuda Cedar has an exotic perfume aroma considered to be heavier & more complex than its North American cousins. The wood is also darker brown in color. It was used in ship building & cathedrals. Today, Bermuda Cedar is considered to be the smell of affluence, a status symbol. Doors, windows & large pieces of furniture can be found only in grand Bermuda homes.

Ecological disaster struck in 1944 when the oyster shell scale & the juniper scale, two parasites, attacked the cedars & within ten years, 90% of the original cedars were dead. During the 1950s as many as 75,000 dead cedars were cut down & the wood stockpiled as re-forestation took place. The wood has become a rare treasure indeed & getting harder to find each year. Bermuda Cedar items that are sold are made from small pieces of old stockpiled wood & can only be made when such pieces become available to craftsmen. Because newly planted trees are protected, this old cedar represents the last of this treasure.
Pricing:
Please email mervin@mascarenhasluxurycreations.com
Or call 1-250-469-9792